Jiko Beach in Boltim Regency, North Sulawesi Province
---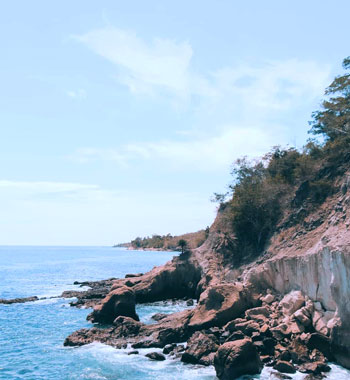 Located in the south of Tomohon City, Jiko Beach of Boltim Regency becomes another tourist allure that everyone should not miss visiting during holidays. The exact location is in Nuangan Sub-District and consists of two stunning beaches called Tanjung Silar and Patokan. The thing is tourists should ride a local fisherman boat in order to get to those beaches. Have no worries. It would be a unique experience for them. Plus, they have the chance to enjoy various fun activities like snorkeling and beach walking there. The secluded location also helps visitors to enjoy a relaxing and peaceful family recreation.
The Nuance
In terms of nuance, Jiko Beach offers a perfect serenity due to its secluded location. However, it doesn't have a long shoreline due to the fact that the shore is located between two cliffs. When it comes to the seawater, it has the color of green Tosca and features small waves. No wonder, visitors are likely to enjoy swimming and snorkeling right away once they arrive at the site. Some people choose to sit by the shore and enjoy relaxation, though. They want to feel the breezy wind and warm atmosphere of the beach. What a relaxing nuance!
Exploring Jiko Beach
The prime allure in Jiko Beach is the presence of multiple shores located close to each other. It is because tourists can visit two different beaches at once, which are Patokan and Tanjung Silar. So, what kind of activities can tourists do on the site? It is as simple as beach walking on the soft-textured shoreline. That means visitors don't have to wear footwear when exploring those beaches.
The next recommended thing that tourists can do in Jiko Beach is none other than sightseeing. According to the locals and some passionate travelers, they consider it similar to that of Thailand' Phuket May Bay. The unique feature is that the beach is located between two big cliffs and it even comes with a small lagoon! What is more? Everyone is able to swim in the lagoon safely regardless of their age and swimming experience. Still, it is better to enjoy swimming during the low tide. Another important tip is that parents must supervise their kids well while playing water.
For a more challenging experience, tourists should head to the neighboring beach which is Silar. It features bigger waves and suitable for experienced swimmers who look for a more thrilling sensation. What about those who can't swim? Well, they can choose safer fun activities like photography and beach walking. Even visitors don't have to do anything! They can simply sit by the beach and enjoy the warm atmosphere.
Nearby Attractions

Molobog Beach
Ariang Beach
Abadi Beach
How to Get There
Well, it is considered a long trip. First, tourists need to get to Boltim Regency and head to Nuangan Sub-District by local transportation service. If they come from Manado City, they may spend about 4 hours and 5 minutes to get to the site. It is because the distance is 146 km. Have no worries. It can be faster if tourists take Ratahan – Kotamobagu Street. In fact, it involves a boat ride to get to the beach from Jiko Village.
Where to Stay

Sutan Raja Hotel
Galaxi Hotel
Modoinding Lodge

Latest News
Everyone knows marine tourism destinations in North Sulawesi, Bunaken Marine Park will definitely be the main reference. In fact, many marine tourism destinations are scattered in the regencies of North Nusa which are no less beautiful. North Nusa is an area that includes three archipelagic districts at the northern tip of Sulawesi. The three archipelagic regencies are Sitaro , Sangihe and Talaud Islands Regency. Previously, these three regencies were part of the Sangihe Talaud Regency before they were divided. In Sitaro Regency (Siau Tagulandang Biaro) itself, there is a lot…
---
Since it was designated as a crossborder destination, Talaud Islands in North Sulawesi, began to improve its tourism. In addition to starting calendar of events, promotions, physical infrastructure to tourist support, Talaud make Sara Island became the mainstay of tourism icon. The uninhabited small island located in the Pacific Ocean is ready to be promoted for marine tourism. The exotic Sara Island with its fine white sandy beach. Regent of Talaud Islands Regency Sri Wahyuni Manalip said, Sara Island is one of the islands ready for sale for tourism activity.…
---
Lenso Dance Lenso is a folk dance from Minahasan, North Sulawesi and Maluku. The word Lenso means handkerchief, hence it uses that property during the dance. This dance is commonly presented in groups during some occasions or party, like wedding party, harvest time, new year, Christmas and many more. The most interesting from this dance is, the participants who are still single, can search for mate during the party by performing this dance. www.indonesia-tourism.com
---
Lembeh Island Lembeh island is part of Bitung administrative area in North Sulawesi. The island is separated from the mainland of Sulawesi Island by the Lembeh Strait. Lembeh island is famous for those who like to dive, because Lembeh island is the best diving spot after Bunaken. The divers recognized Bunaken as the Sea Garden in the Earth, but Lembeh is such a virgin island. It is untouched and almost to be the perfect diving spot. There are so many unusual habitats and exotic organisms live under Lembeh island, like,…
---