Tetetana Kumelembuai Peak in Tomohon City, North Sulawesi Province
---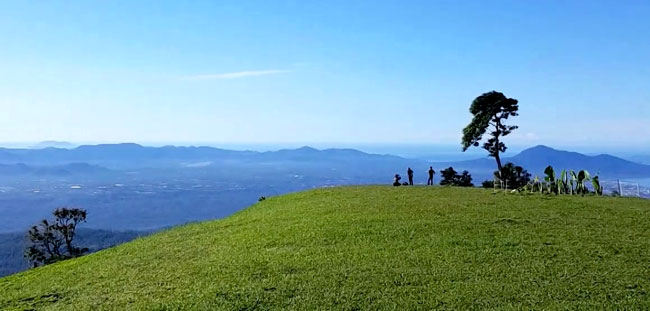 Located in North Sulawesi Province, Tomohon City becomes a good alternative to enjoy a vacation in Indonesia. Well, it is because the region has many options of tourist sites like natural attractions, culture, culinary, and much more. As for the reference, there is Tetetana Kumelembuai Peak in Tomohon Timur Sub-District. The exact location is in Kumelembuai Village and it offers a wonderful panorama from a highland. In terms of name, "Tetetana" derives from the local language meaning a Tete's Land. Another meaning is "the small bridge". As people may expect, they can see a breathtaking panorama and conduct other relaxing activities like sightseeing and photography.
The Nuance
Once arriving at the top of the hill, the nuance feels quite secluded and serene. Sometimes, in fact, it is covered by clouds and cold air! As for the scenery, visitors can see many beautiful objects clearly from afar including Bitung Mountain, Klabat Mountain, and Tondano Lake. If they come at night, the sparkling lights can be seen on Tingtingon Hill. When it comes to facilities, there is a small hut located on the site. Well, tourists can use it to rest and sit while sightseeing.
Exploring Tetetana Kumelembuai Peak
The first allure in Tetetana Kumulembuai Peak is none other than the local myth. In this case, tourists should talk to villagers if they want to hear the story. The site has a beautiful waterfall used by a beautiful goddess called Pingkan. She decided to stay in Tintingon Hill and often came to the site for bathing. It is even said some villagers often see her either in the morning or at night. Despite the story, not all people believe in her presence at all.
The next allure is the presence of three stunning fountains located separately. Still, tourists are able to explore them all without hassles due to the excellent accessibility. This explains why exploration becomes another popular thing to do there. Tourists can simply follow the route and explore available natural attractions. If necessary, they should hire a local guide to explore the hill in an easier manner! The best spot to visit is definitely the top of the hill. On that area, they have the opportunity to watch a romantic sunrise in the morning! If they come at night, they may see sparkling lights of nearby buildings!
What is more? People keep coming to Tetetana Kumelembuai Peak in order to enjoy photography. It is because the site offers many great objects to capture with a camera. For instance, some villagers are often seen nearby doing their jobs. Some of them even ride a cart and carry vegetables on it. Somehow, this becomes a nice background to capture. Another interesting object is the majestic mountains seen on the horizon! Make sure to capture them later!
Nearby Attractions

Seper Lake
Tintingon Hill
How to Get There
The distance between the capital of North Sulawesi Province and Tetetana Kumelembuai Peak is 34.1 km. That means the trip may take approximately 1 hour and 7 minutes. As for the best route, tourists can take Raya Manado Tomohon Street. The first destination is Tomohon Timur Sub-District and tourists simply need to reach Kumelembuai Village afterward.
Where to Stay

Bella Villa
Mountain View Resort
Jhoanie Hotel