Tapahan Telu Tinoor Waterfall in Tomohon City, North Sulawesi Province
---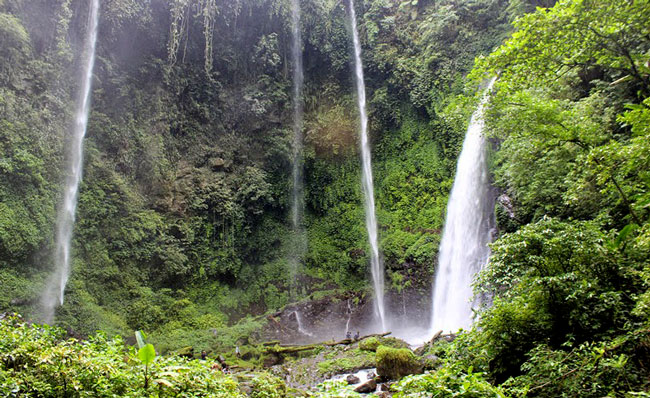 Tomohon City is known for its volcanoes and highlands. However, other natural attractions also reside including waterfalls! For example, one of them is located in North Tomohon Sub-District called Tapahan Telu Tinoor. To be exact, this beautiful waterfall resides in Tinoor Satu Village and it is located at the foot of Empung Mountain. Another name is Regesan Waterfall and it has a hidden location, which is in the midst of Tinoor Forest! That means tourists should take advantage of the help of tour guide in order to reach the site. The reason is the inexistence of directions or signs that help visitors to get to the location.
The Nuance
As mentioned before, there is no official route to get to Tapahan Telu Tinoor Waterfall. What tourists may find are shady trees and lush bushes while they are heading to the location. Thus, everyone should hire a local guide before visiting the waterfall. Even though some paths feature stairs and paved routes, everyone must spend some stamina and time to reach their destination. Have no worries. These difficulties are paid off once tourists arrive at the site. They may see a secluded place with multiple water discharges. Plus, the nuance is quite peaceful and relaxing.
Exploring Tapahan Telu Tinoor
Trekking becomes the first reason why people visit Tapahan Telu Tinoor Waterfall in Indonesia. These people want to enjoy such outdoor activity while watching the stunning panorama during trekking. The thing is the trekking route is considered dangerous, featuring rocky and slippery landscapes. Not to mention it feels like going down to a valley, so everyone needs to be careful while doing so. For beginners, it is recommended to hire an experienced trekker or local guide when heading to the site.
Once getting near to the location, tourists may hear the sound of gurgling water right away. At the time, their tiredness seems to go away instantly! The nuance feels so rejuvenating, after all. Not only the site provides one water discharge, but it comes with 3 waterfalls! Thus, everyone should carry a camera when visiting the site because they must not miss the chance to take some photos of those unique water discharges.
Another name is Regesan Waterfall and it has become a significant allure North Tomohon Sub-District. As mentioned before, the site attracts those who love trekking and photography. What is more? Knowing the fact that the site is quite popular, the locals decided to build several eateries on the road near to the location. Thus, visitors can rest for a while and eat some delicious foods before continuing their trip. They can also get the help of a local guide there!
Nearby Attractions

Kanderawatu Waterfall
Manguni Waterfall
Pemekaran Monument
Matalayang Waterfall
How to Get There
From Manado City, a trip to Tapahan Telu Tinoor Waterfall may take about 39 minutes. It is because the distance is 13.7 km. Once arriving at North Tomohon Sub-District, they only need to go to Tinoor Satu Village where the waterfall is located. As for the best route, it is Pineleng – Kali Street.
Where to Stay

Arjuna Resort
Mountain View Resort