Toar Lumimuut Tourist Site in Minahasa Regency, North Sulawesi Province
---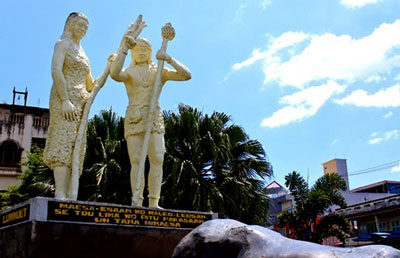 When it comes to a vacation, tourists indeed have a distinct preference. Some of them want to learn local culture, while others choose to visit natural attractions or recreational areas. In this case, those who are visiting Tomohon City and Minahasa Regency should consider coming to Toar Lumimuut Tourist Site. The location is in Tounelet Village and it belongs to Sonder Sub-District. People come to the location in order to enjoy the serenity and comfy nuance of the site, actually. The site is also suitable to spend a family recreation. No wonder, it becomes crowded both on weekends and holidays. Most visitors come from Tomohon and Minahasa Regency, but some of them also come from outside the island.
The Nuance
When it comes to the nuance, Toar Lumimuut consists of a forest with numerous facilities and fun rides. In fact, tourists can find a swimming pool with a spiral slide in it. The next recognizable feature is the presence of swan boat service. Thus, visitors only need to pay some money to rent the boat and get around the pond comfortably. On the pond, some lotus plants float beautifully and they are worth a photo shoot. For the information, the water comes from the mountain so it feels so refreshing and looks clear.
Exploring Toar Lumimuut Tourist Site
The most common reason for visiting Toar Lumimuut Tourist Site is to enjoy outdoor activities. This explains most visitors are citizens who want to eradicate stresses and find peace during weekends and holidays. Somehow, the place is suitable to enjoy outbound as well. It is because the management has provided several facilities including flying fox and dry crossing. Still, tourists need to spend some money to use the facilities.
The next allure in visiting Toar Lumimuut Tourist Site is to enjoy a family recreation. In this case, families should bring their kids to the site and build a stronger relationship there. Aside from using those outbound rides, they can take advantage of other fun facilities especially the serene pond with swan boats on it. As mentioned before, everyone is able to rent the boat and explore the pond comfortably. Not to mention the nuance feels so refreshing and peaceful due to the presence of shady trees surrounding the site.
As an alternative, tourists can take advantage of the pool for swimming. There is even a spiral water slide to use! The best thing is the water comes from the mountain, so it feels both refreshing and clean. Overall, visitors should not forget to carry extra cash because they may use the money to try all those facilities.
Nearby Attractions

Tondano Mountain
Tumimperas Waterfall
Tincep Waterfall
Kayuuwi Waterfall
How to Get There
From Manado City, a trip to Toa Lumimuut Tourist Site may take around 1 hour and 13 minutes, as the distance is 38.5 km. What tourists need to do is to head to Minahasa Regency and reach Tounelet Village afterward. The first route to take is Raya Manado Tomohon Street. Next, tourists should take Kawangkoan – Tomohon Street.
Where to Stay

Greenlake Bungalow
Miracle Homestay