Tondano Mountain in Tomohon City, North Sulawesi Province
---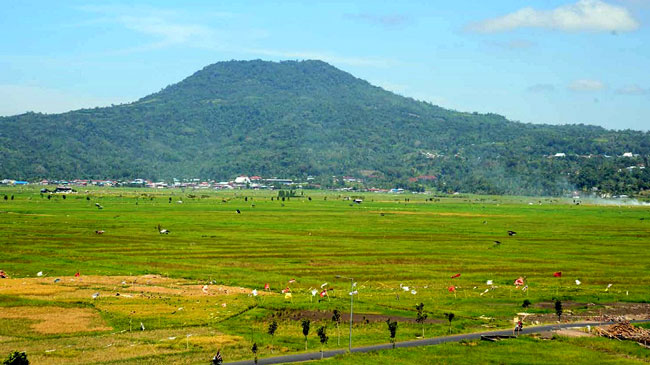 When visiting Indonesia, tourists may find lots of mountains for them to explore. Due to such many options, everyone should pick one that suits their experience indeed. In this case, for a casual trekking, they must choose Tondano Caldera which is located in Uner Satu Village and belongs to Kawangkoan Sub-District of Tomohon. The good thing is it offers lots of panoramas including the famous Tondano Lake and a series of mountains like Masarang, Kaweng, Lembean, and Tampusu. What a perfect vacation destination to conduct photography and sightseeing! Later, tourists can also get to the lake and enjoy further fun activities there.
The Nuance
In terms of nuance, the mountain looks peaceful due to its inactive status. The surface of the mountain is covered by lush and shady trees, as well. No wonder, visitors are able to enjoy relaxation while exploring the mountain. In the foot of it, many local farms and houses are seen. That means people have no problems in living near to it. What about the size? The highest peak is approximately 1202 meters! Do not forget the fact that the mountain has a crater with the width of 20 x 30 km!
Exploring Tondano Mountain
For the information, Tondano Mountain has several somma volcanoes located on the sides of the caldera. These include Lokon-Empung, Soputan, Sempu, and Mahawu. No wonder, it offers a complete mountainous panorama to all visitors! Due to the reason, everyone should not forget to carry a camera when heading to the mountain later. Also, it is recommended to come with a guide who can tell thorough information about the mountain and direction to the best spots for sightseeing.
It is true people have a different reason for visiting Tondano Mountain, but they have a similar motive. It is none other than to see the majestic panorama directly. For others, the mountain gives them a great opportunity to enjoy trekking in a more challenging way. It is because the site offers many routes on where tourists can explore. Plus, each route has a distinct panorama! They can even do it either alone or in a group, depending on their preferences.
One thing, Tondano Mountain is not for beginners. That means inexperienced trekkers should not carelessly explore the site without the help of a porter or guides. Another important aspect is related to the weather. It is quite windy up there, so everyone should wear comfy clothes during exploration. As for the equipment, carrying a camera is a must. Other important things to carry are bottled water, a mobile phone, snacks, and a compass.
Nearby Attractions

Tondano Lake
Kayuuwi Waterfall
Kamanga Hot Spring
How to Get There
The distance between Manado City and Tondano Mountain is 47.3 km. That means it takes about 1 hour and 23 minutes to get to the location. Here is the tip. The trip becomes faster if tourists take Raya Manado Tomohon Street. Their first destination is Kawangkoan Sub-District. Lastly, they only need to reach Uner Satu Village where the mountain resides.
Where to Stay

Ceria Hotel
Sumaru Endo Cottages
Greenlake Bungalow

Latest News
Everyone knows marine tourism destinations in North Sulawesi, Bunaken Marine Park will definitely be the main reference. In fact, many marine tourism destinations are scattered in the regencies of North Nusa which are no less beautiful. North Nusa is an area that includes three archipelagic districts at the northern tip of Sulawesi. The three archipelagic regencies are Sitaro , Sangihe and Talaud Islands Regency. Previously, these three regencies were part of the Sangihe Talaud Regency before they were divided. In Sitaro Regency (Siau Tagulandang Biaro) itself, there is a lot…
---
Since it was designated as a crossborder destination, Talaud Islands in North Sulawesi, began to improve its tourism. In addition to starting calendar of events, promotions, physical infrastructure to tourist support, Talaud make Sara Island became the mainstay of tourism icon. The uninhabited small island located in the Pacific Ocean is ready to be promoted for marine tourism. The exotic Sara Island with its fine white sandy beach. Regent of Talaud Islands Regency Sri Wahyuni Manalip said, Sara Island is one of the islands ready for sale for tourism activity.…
---
Lenso Dance Lenso is a folk dance from Minahasan, North Sulawesi and Maluku. The word Lenso means handkerchief, hence it uses that property during the dance. This dance is commonly presented in groups during some occasions or party, like wedding party, harvest time, new year, Christmas and many more. The most interesting from this dance is, the participants who are still single, can search for mate during the party by performing this dance. www.indonesia-tourism.com
---
Lembeh Island Lembeh island is part of Bitung administrative area in North Sulawesi. The island is separated from the mainland of Sulawesi Island by the Lembeh Strait. Lembeh island is famous for those who like to dive, because Lembeh island is the best diving spot after Bunaken. The divers recognized Bunaken as the Sea Garden in the Earth, but Lembeh is such a virgin island. It is untouched and almost to be the perfect diving spot. There are so many unusual habitats and exotic organisms live under Lembeh island, like,…
---