Tombakar (Ranowangko) Lake in Tomohon City, North Sulawesi Province
---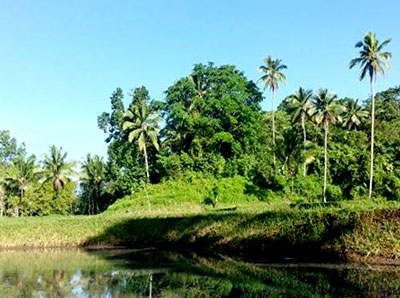 It is true Tondano Lake is a famous and major vacation spot in Tomohon City. However, other lakes reside there including Ranowangko Lake. The location is in Tataaran Dua Village and it belongs to West Tondano Sub-District. To be exact, it is likely the local may call it a reservoir instead of a lake due to its function. For tourists, though, it becomes a good alternative to spend a holiday in Tomohon. These people come to the Indonesia site for distinct reasons like photography, enjoying a different ambiance, and relaxation.
The Nuance
It is true Ranowangko is not as big as Tondano Lake, but it has a distinct charm. For instance, there is a building located by the lake which is the home of the keeper. Some people also conduct a research in that house, actually. The next recognizable feature is the presence of lots of water hyacinth on it! There are tons of them, so it looks like the lake is completely covered by those water plants. When it comes to the clarity, the lake indeed offers clear water but it is not suitable for swimming.
Exploring Tombakar Ranowangko Lake
The first thing that tourists can do in Ranowangko Lake is to enjoy the nuance. Thanks to the serene atmosphere, the site is good enough for relaxation and lessening during weekends. For the best experience, it is recommended to come in the morning. It is because the air feels the freshest. Plus, the site doesn't have many visitors at the time. For those who look for a merrier ambiance, though. They should come during weekends or holidays when the locals conduct a community service to clean the lake. Tourists can even join the activity and take part in cleaning the environment. It would be a new vacation experience, for sure.
Even though the water hyacinths become the major allure in Tombakar Lake, it is considered a pest. No wonder, villagers regularly conduct a community service in order to get rid of those water plants. They call those plants "Penpengen", actually. For the information, the activity is done early in the morning during weekends. Thus, tourists should come at the right time if they want to join it.
Another recommended activity to do in Ranowangko Lake is photography. In this case, the best object to capture is the group of water hyacinth. Also, tourists can take photos of people who work during the community service. Make sure to take pictures together with them while visiting the lake later!
Nearby Attractions

Tondano Lake
Sam Ratulangi Tomb
Moraya Fort
How to Get There
For those coming from Manado City, they may spend about 1 hour and 6 minutes to get to Ranowangko Lake. It is because the distance is 31.9 km. Have no worries. The trip becomes faster if they take Raya Manado Tomohon Street. What they need to do is to get to West Tondano Sub-District and reach Tataaran Dua Village afterward where the lake resides.
Where to Stay

Tou Dano Hotel
Angga Toding Homestay
Moy Residence