Traditional Foods of Tomohon City, North Sulawesi Province
---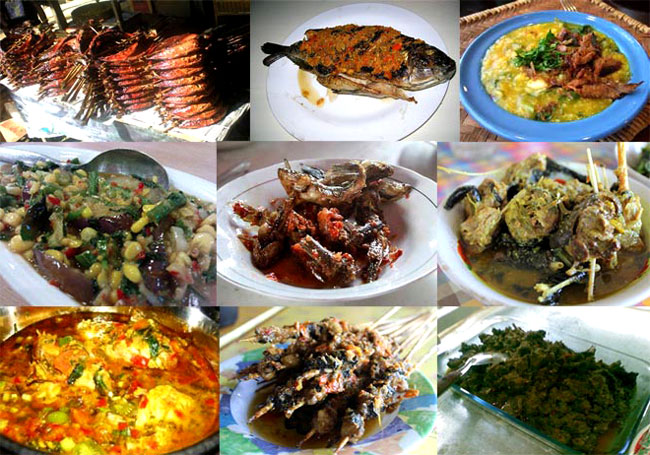 While visiting Tomohon City, tourists should explore the region and find a good place to try all available traditional foods. Culinary becomes one of the reasons to come to Tomohon, after all. The problem is that not all tourists know their option. Also, they don't even know where to find those foods! Here is the information. The region has several recommended foods for everyone to try including Mujair Saus Tomat, Wawahu, and Nasi Bungkus. Each of them offers a distinct taste and appearance, so tourists must try them all.
The Best Place to Get Them
Before deciding to come to Tomohon City for those foods, tourists should get vital information beforehand! It is related to where they can get the foods. According to the locals, the most recommended one is in Nusantara Street, Paslaten Satu Village. That means everyone should head to Tomohon Timur Sub-District first and find nearby local eateries there. As an alternative, they can order the foods from the hotel where they are staying. One thing, the price is quite pricey if they get the foods that way.
Enjoying Traditional Foods of Tomohon City
As mentioned before, tourists can find many types of Tomohon's traditional foods. The first option is called Mujair Goreng Saus Tomat. No wonder, Tomohon City has abundant tilapias (especially those living in Todano Lake). The crispy texture and delicately sweet taste make this dish special, without a doubt. The good thing is the locals use special spices to elevate the taste! Tourists won't find this food in other regions for sure. As an alternative, they can order grilled tilapia instead of the deep-fried one.
What is next? Tourists can also find a special dish called Wawahu. Another name is Kuah Ba', actually. So, is it? The main ingredients are chunks of pig bones, covered with local spices. Have no worries. Moslems can order cow ribs instead of the pigs. Due to the exclusiveness and excellent taste, this price is considered more expensive than others. Have no worries. The price is definitely worth the money. After all, tourist won't find it in other places so it is going to be a rare experience.
Another option is Nasi Bungkus or wrapped rice. The locals use a special leave to wrap the rice, which is called Deikit. Somehow, it gives an interesting aroma and taste. The good thing is this food is considered the cheapest as compared to the previous twos. So, do not miss the opportunity to try it later.
Nearby Attractions

Kali Waterfall
Doa Hill
Alfa Omega Tower
How to Get There
For those coming from Manado City, they can directly head to Tomohon City by local transportation service. The distance is 25.1 km, so the trip may take approximately 52 minutes. Make sure to take Raya Manado Tomohon Street for a faster trip, though. Once arriving at the city, the next destination is Tomohon Timur Sub-District. Lastly, they only need to find Nusantara Street at Paslaten Satu Village (where they can find recommended local eateries to get those foods).
Where to Stay

Leos Hotel
Mandey Inn
Candlenut Treehouse
Airy Hotel

Latest News
Everyone knows marine tourism destinations in North Sulawesi, Bunaken Marine Park will definitely be the main reference. In fact, many marine tourism destinations are scattered in the regencies of North Nusa which are no less beautiful. North Nusa is an area that includes three archipelagic districts at the northern tip of Sulawesi. The three archipelagic regencies are Sitaro , Sangihe and Talaud Islands Regency. Previously, these three regencies were part of the Sangihe Talaud Regency before they were divided. In Sitaro Regency (Siau Tagulandang Biaro) itself, there is a lot…
---
Since it was designated as a crossborder destination, Talaud Islands in North Sulawesi, began to improve its tourism. In addition to starting calendar of events, promotions, physical infrastructure to tourist support, Talaud make Sara Island became the mainstay of tourism icon. The uninhabited small island located in the Pacific Ocean is ready to be promoted for marine tourism. The exotic Sara Island with its fine white sandy beach. Regent of Talaud Islands Regency Sri Wahyuni Manalip said, Sara Island is one of the islands ready for sale for tourism activity.…
---
Lenso Dance Lenso is a folk dance from Minahasan, North Sulawesi and Maluku. The word Lenso means handkerchief, hence it uses that property during the dance. This dance is commonly presented in groups during some occasions or party, like wedding party, harvest time, new year, Christmas and many more. The most interesting from this dance is, the participants who are still single, can search for mate during the party by performing this dance. www.indonesia-tourism.com
---
Lembeh Island Lembeh island is part of Bitung administrative area in North Sulawesi. The island is separated from the mainland of Sulawesi Island by the Lembeh Strait. Lembeh island is famous for those who like to dive, because Lembeh island is the best diving spot after Bunaken. The divers recognized Bunaken as the Sea Garden in the Earth, but Lembeh is such a virgin island. It is untouched and almost to be the perfect diving spot. There are so many unusual habitats and exotic organisms live under Lembeh island, like,…
---